WWE vs TNA: Could Monday Night Wars II end up being just a bad sequel?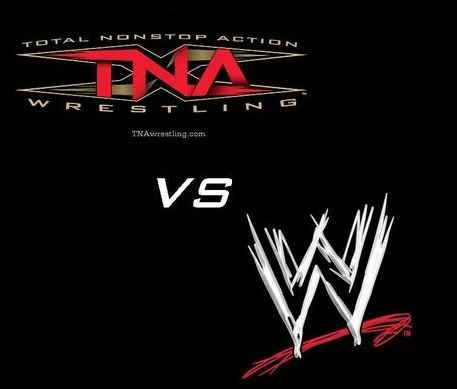 Remember how the legacy of your favorite movie was ruined by its ill-made sequel? Everything you loved about the original movie, everything that made it special for you, everything that got you hooked to it, just wasn't there in the sequel.
With the official announcement yesterday that TNA will be moving its show iMPACT! to Monday nights, soon and permanently, and will be locking horns with WWE's Monday Night RAW, the talks of the second edition of Monday Night Wars are running rampant again.
But will this sequel really live up to its expectations? Will the wrestling fans really be the ultimate winners of this war, like they were the first time round?
Life is funny, folks.
TNA has been talking about providing an alternative to the wrestling audiences (and apparently the wrestlers as well, if you are to believe Hulk Hogan) and trying to create its separate identity as a company with an emphasis on wrestling. It has, time and again, accused WWE of being a company afraid of referring to its product as 'wrestling'.  And yet, TNA introduced Hulk Hogan as the "pop culture icon" Hulk Hogan. Not the wrestling legend Hogan, but the pop culture icon Hogan!
And hours after this announcement, Monday Night RAW delivered a show guest hosted by Jerry Springer, which was less than impressive, compared to last few weeks' shows  especially.
In this PG-era of the WWE, where Hornswoggle gets more TV time than Kofi Kingston, timed perfectly with the Hogan-era of TNA where Hall/Waltman get more TV time than Beer Money/Generation Me, are we to really expect a stellar, edgy, exciting, mind-boggling, sports entertainment bonanza that was the original Monday Night Wars?
Original Monday Night Wars made the life of a wrestling fan difficult by making him choose between the Steve Austins, HBKs, Mick Foleys on WWE, and the whole nWo stable running wild on WCW coupled with their supreme cruiserweight action. Edgy story-lines, nifty dialogues, catchy taunts, unusual gimmicks,  stellar performances, and most of all – the superstars to actually bring all of this to life. Ten years ago, this business had it all.
The Monday Night Wars II might make the life of a wrestling fan difficult in a different way. He will have to choose the less awful show. Whether to avoid the Nasty Boys on TNA in favor of watching Chris Masters do his nipple-dance; whether to wait forever for the Matt Hardys and Shelton Benjamins to taste the ambrosia of main event status and watch Sheamus come out of nowhere and take the gold or to wait an eternity to see The Amazing Red or MCMGs while witnessing the chaos that is a Hogan promo. Yeah, it's tough, no doubt.
Can Monday Night Wars II even hold a candle to the original spectacle?
The original Monday Night Wars was like watching Godzilla vs King Kong! This new one might be like watching Giant Oompa Loopma vs Uncle Fester!
The truth is this new edition of Monday Night Wars is overhyped. TNA's audacity (there can be cruder words used for it, but let's call it audacity) is admirable, but is it well-timed? Locking horns with WWE when it is building up to Wrestlemania, at a time when TNA itself is trying to find a new identity and is undergoing changes, is a move with many concerns & serious implications.
TNA seems driven to compete with WWE, eerily in the same way WCW was driven to beat WWE back in the day. But the truth is, TNA's biggest competition is not WWE, but TNA itself. The real challenge is not beating WWE in ratings, but to hold on to its original, fiercely loyal fanbase while flirting with a new one; delivering on their promises of providing more 'wrestling' than 'sports entertainment'; and creating its own impressionable image in the wrestling world.
Does TNA have talent and potential to wage a war on the WWE? Yes, possibly. But a war cannot be waged by keeping your arsenal locked up and rusted. TNA seriously needs to deal with the issue of past superstars overshadowing the newer ones. You know something is going wrong when the Nasty Boys get more mic-time than Desmond Wolfe.
TNA has a loyal fanbase in the UK, which has had many complaints recently, which TNA needs to address first. TNA needs to increase its own viewership, build its own loyal audience on Thursday nights and then carry it to Monday nights.
While WWE is truly in a league of its own, as far as ratings go, their product has not exactly been fantastic either. While the PG-era has proved immensely profitable, it has driven away more and more of both traditionalist and hardcore wrestling audiences. The guest host concept has lost its charm, if it had any to begin with; the women's and tag-team division have lost their potency; and the cartoonish comedy antics have long since overpowered the wrestling aspect of the show.
WWE is not the WWF it was a dozen years ago. TNA is the WCW in a new package, only older. Sadly, wrestling is not like fine wine…
My prophetic skills are as profound as Tiger Woods' loyalty. So, I hope, I pray, I expect these two companies prove me wrong.
Monday Night Wars II is an opportunity for both the companies to compete with themselves, rather than with the rival company, and strive to deliver the best product they can.  Their challenge is to manufacture the best, well-balanced dose of pro-wrestling and sports entertainment they can, and sell it like hot cakes to today's TV audience. Their challenge is not to fight like new enemies but to recreate the magic of those wrestle-gasmic Monday nights like two old lovers.
Sequels always have a grand opening and house-full shows on the first day. Whether they can hold on to this audience and take wrestling to another level, and save this from being a bad sequel is the real question.
4 responses